#5 - Dirt road anthem by Jason aldean
Come on... we've all sung it or hummed it to ourselves. It's one of the catchiest songs on the radio in recent years right? With its blend of top 40 country syrup on the chorus and a upbeat (slightly awkward) rapping set of verses is kind of like a guilty pleasure. (Mine was honey b00 boo) But, in the back of your head you had to have thought the same thing I did right? "There's no way he wrote this song." Turns out we were right?
Powered by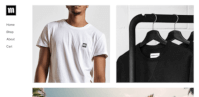 Create your own unique website with customizable templates.