today I went into the studio...

I tried to shake the nerves, but, honestly this one was very rough. I wrote this song a while ago the night my grandmother died. She was an amazing woman. BOTH of my grandparents were truly super human. My grandfather kept a garden, worked it, and used to play baseball with us... IN HIS mid 70's! What? I always loved and looked up to both of them, so, losing them was hard. When I lost my mammaw I wasn't mad though... it was weird... I don't know if it was because I knew it was coming or if I just was at peace with it, but, I had this weird type of sad/happy feeling. Even though I was sad I would never see her in person again I couldn't help, but, smile and remember all the funny things she would say. One of my favorite ones to this day is, "It's colder than a witch's titty out here!" She was bold and stern, but, also loving. She said what she thought 24/7 and she didn't care who knew it. She really was (insert song title) honest to the bone. You factor all of this with the fact that I haven't been in the studio in 2 years? Yeah I was nervous. But, We came in and knocked out. I was SO nervous, because, I didn't want this song to end up too "poppy", but, about halfway through I thought about her and said... "you know what? I don't care. I want this song to make her proud... not anybody else." So, what you see is what you get.

"Honest to the Bone" was mixed and mastered at the Sound Lair in Knoxville.
Powered by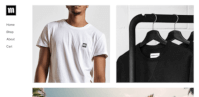 Create your own unique website with customizable templates.